Welcome to the first edition of the Gemma Rose Project Rescue Spotlight! Being that this is the first edition, we want to take some time out to explain what exactly the rescue spotlight is.
What is the 'rescue spotlight'? The rescue spotlight is a core component in the Gemma Rose Project's mission. It's purpose is purely to raise awareness of animal rescue, the people involved, while giving a genuine insight into what happens behind the scene. We want to make the general public aware of the good, the bad and the ugly truths about what goes on. The rescue spotlight also gives us an opportunity to award those who are dedicating their lives and giving up their valuable resources to help animals in need.
December 2016 – Rescue Spotlight:
With that said, our first edition and December 2016 rescue spotlight award goes to Meredith of 11th Hour Rescue in New Jersey! Meredith has been fostering for the last 6-7 years and has been responsible for the care of over 25 dogs! We've awarded Meredith with a $50 gift card to www.amazon.com but being the person she is, asked if the money could be donated to Eleventh Hour rescue instead. We decided that we still wanted to give her something so we met her half way, and sent her a $25 gift card and will be donating the other $25 to Eleventh Hour's Amazon wishlist so that some shelter puppies could have a gift to open on Christmas day!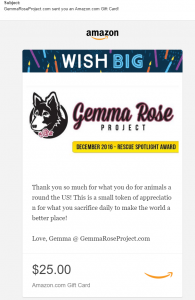 We sat down with Meredith and ask her a bunch of questions. We were excited to talk to her.
Here is our conversation in Q&A form:
Gemma Rose: Tell us a little about yourself and how/when you got into animal rescue?
Meredith: My husband and I begin fostering in about 2010. We had adopted one of our dogs from 11th hour and really liked the organization and wanted to help out. We also have three children and two dogs of our own. I have worked both part-time and full-time as a teacher well fostering.
—
Gemma Rose: How many dogs have passed through your foster-care in those years? And how many times have you 'foster failed'? 
Meredith: We have fostered approximately 25 dogs over the years. We have only foster failed once with our girl Sandy. We have had her now for 5 1/2 years. We almost failed again about two years ago, but we found him a great family! He now has a sister adopted through 11th hour as well!
—
Gemma Rose: How do you handle bringing in animals that don't get along with each other? Have you ever come across such a scenario? 
Meredith: Call it luck or being very cautious, but all of our dogs have gotten along in the house. When a new dog comes to us we are careful to give the dog space and time that it needs to recuperate from the travel and adjust to living in our house. We also feed our dogs separately in order to avoid any problems with food. It's hard to tell when dogs are going to become possessive over food or a special toy. We just feed them all separately including our own dogs.
—
Gemma Rose: How has fostering and being involved in animal rescue impacted you financially? 
Meredith: No not nearly as much as my three kids! (Not sure if you want a joke in there or not but it's true!) when it comes to dog food, it's not a big deal, it's just one more bowl of food. If it is veterinary care, that is covered by 11th hour. However we do donate to 11th hour and have helped many times with a vet bill when a pup has been especially sick. We also donate food,toys and supplies whenever we can. Our three children have also done lemonade stands and supply drives in order to help raise money for 11th hour and the dogs.
—
Gemma Rose: What has been the most difficult part of fostering and animal rescue?
Meredith: The most difficult part being involved in animal rescue is knowing that there are so many more good dogs out there that are being euthanized due to overpopulation. Especially in the southern states. I have sort of become that crazy lady that keeps on saying to people "please please spay and neuter your pets! Adopt don't shop!" When I think of all the wonderful animals that have come through my home it breaks my heart to think that they too could have been put down if it weren't for organizations like 11th hour. These animals have given us and their families so much love. It could have been a more tragic outcome if it wasn't for rescue.
—
Gemma Rose: On the contrary, what has been the most rewarding? 
Meredith: The most rewarding is seeing the dogs adopted to a family that is so excited to have them! I also love seeing the animals out and about with their families doing well and succeeding. Doing what dogs do best! I love getting email updates and photos from the families and their dogs. Many of the families that have adopted from me are my friends on social media and love to share their pictures and funny silly moments with their dogs!

—
Gemma Rose: What is your most memorable moment in animal rescue? Is there one that stands out the most?
Meredith: The most memorable moment just happened recently. We had a dog that was difficult to adopt due to severe separation anxiety and after a year and a half he has finally found the right family! When he came to an event that we were at his whole personality had changed! He was confident and not nearly as nervous as he used to be. He knew he had found his family! It bought me to tears because ultimately we all love to see our dogs with their forever families and doing well.
—
Gemma Rose: What is a something about animal rescue that you would want the general public to be aware of?
Meredith: I would love for people to know that it is not difficult to foster . People ask me all the time, I don't know how you do it, how can you let the dog go to another family? My response always is if I don't foster this animal, who will? I know that this pup is going to live a wonderful life with a great family. It just needs to stay with us until we find that perfect match.
Fostering has also helped my three children become more compassionate and responsible people. They have learned to be patient and understanding and to give of themselves in order to make an animal's life a little bit easier. They have spent many hours walking foster dogs, baking holiday treats for the dogs up at the kennel, and washing dogs and napping on the couch with some of the best dogs in the world!
—
We at Gemma Rose Project, want to thank Meredith so very much for what she's contributed over the years. The people in animal rescue are always the best kind of people. They sacrifice their time, their money, their homes, their lives to save the life of a single animal. They don't ask for anything in return, they don't want the spotlight. They are doing what they do, out of the goodness and kindness of their own hearts.
We will be using this 'rescue spotlight' avenue on a monthly basis as a way to give back and further cement our commitment to the stamp of 'SUPPORTING ANIMAL RESCUE' on each and everyone of our boxes.\
We hope you've enjoyed reading Meredith's story and gained a little insight into rescue and potentially even contemplated becoming a foster. Please let us know how you liked this style of post, as this the first edition we'll be looking to improve on it in future editions. Thank you for reading and supporting our mission! Wishing everyone a very happy and merry holiday season!
Love,
Gemma, Nick & the Gemma Rose Project Staff